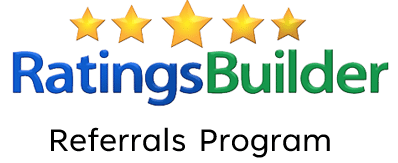 Ratings Builder is a valuable tool any business who deals with the public can benefit from. We work hard to provide an excellent service for a low price. We want to keep prices low for years to come, and referrals are a big help to us.
We have a referral program that is different from almost any other service. As a Ratings Builder customer you can earn free months of service by simply referring us to other business owners. What makes our referral program different is that your referrals don't even need to sign up for our service. They just need to be business owners who know you.
How Can I Get Free Ratings Builder Service?
Log in to your RatingsBuilder.com and click on the "Earn Free Months" tab. You will see a box that looks like this:
Fill in the requested details.

For every five (5) qualified referrals you enter, you earn a FREE month of Ratings Builder service!
 What is a Qualified Referral?
 A "Qualified Referral" is someone who knows you and is the owner or decision maker at a business that deals with the public.
What's My Risk?
We don't think there is any. As you already know we don't employ pressure type sales people. Any information provided will be kept in strict confidence and will only be used to show how Ratings Builder can help their business.
Are There Any Limits?
Currently we allow a maximum of five (5) months of free service for qualified referrals, but that could change in the future.
What is the "Fine Print"?
The normal-sized fine print is that your Sales Advisor will contact these referrals and try to show them how the Ratings Builder service can benefit them. Please note that if your Sales Advisor finds that someone on your referral list either does not know you or does not own or manage the decisions of the business, that referral cannot count toward earning a free month. We will let you know in your Ratings Builder system if any of your referrals fall into that category.
We Appreciate Referrals!
Please know that we value your trust and will use the same professional tone and knowledge-based approach that we used with you. If you have any questions about your service or the referral program you can reach out to us through your Ratings Builder by clicking on the "Contact Support" tab.
To your business success!
~ Ratings Builder Referrals Team